Realistic off-line side hustles in the UK that anyone can do
Interested in earning some money on the side? Then find a side hustle that works for you! There are plenty of ways for anybody to make extra cash. Here we look at the best off-line side hustles in the UK.
When searching online for side hustle ideas it's easy to get attracted to all the work-from-home gigs doing things like online surveys, blogging, website testing, currency trading, etc. These online opportunities are very tempting but delve deeper and it's not so simple. Pay is low, competition is intense, they require new skills, or can be financially risky… There's often a lot to learn and the rewards may be low (e.g. surveys), or take a long time to become significant (e.g. blogging).
But if you just want to get going with your current or easy-to-get skills, then doing old-fashioned offline side hustles is more realistic for getting going quickly and earning immediately.
Offline side hustles include traditional activities like dog walking, child care or mystery shopping. Doing the work is still as physical as before, and an easy skill to acquire, but getting and managing the work is greatly enhanced by accessing websites where you can get matched with customers. Also, new jobs have been created or boosted, like freelance taxi driving or deliveries.
Find something you will enjoy, provide a service to the community and who knows, it could grow into a full-time role or even a business.
So which are the best off-line side hustles in the UK anyone can start now?
However much you want to earn or have time for, there's a side hustle that will suit you. Here's a list of good side hustle ideas to get started with.
Pet sitting
People just love their pets! Dogs, cats, birds, fish, guinea pigs…
But they cannot always be with them. They go out to work, away on business or take family holidays. Not all animals can go to boarding kennels, and some people just don't like that idea.
That's where pet sitting comes in. You can visit people's homes to feed their animals, clear up, give medicines or just keep them company.  Alternatively, you can combine this with house sitting when the owners are away.  You can also offer overnight stays in your home if that's compatible with your pets, though you do need a licence from your local council to do that.
This is a great way of making money at your own pace. Rates are around £10-15 per hour and overnight stays can be double that. It also allows you to enjoy time with cats and dogs, and other animals – so why not?
These jobs are easy to get through word of mouth, by posting a notice at the local newsagents or supermarkets. There are also many pet-sitting websites where you can register so owners can contact you, e.g. Pawshake.co.uk and Rover.com or PetSittingAngels.co.uk.
Pros: It's quick, easy and free to get started. No new qualifications are needed, just a love for animals.
Cons: Many other people may be doing it in your area cheaply or for free, maybe try to specialise.
Dog walking
If you're a dog lover, then taking up dog walking may be the ideal side hustle.
It can take as little as an hour or two on the days you choose to do it, or you can develop it into a full-time and growing business. It's a great way to make extra money and get regular exercise in the great outdoors.
As much as dog owners love their four-legged friends they cannot always dedicate as much time as they would like to them. Their busy lifestyles and long commutes take them away from their pets.
It's become common for more and more owners to ask dog walkers to take their pooches out for daily exercise. Depending on the area and high demand, walkers can charge anywhere between £10 and £20 per hour.
It is easy to get started – no special skills are required, but it's best to be experienced in dog handling. Also, investigate getting insurance just to be sure. Try moneyhelper.org.uk for more advice.
Ask around to get jobs through word of mouth. Or talk to other dog walkers, they may have too much on their hands and can pass jobs your way. Alternatively, hand out flyers or advertise locally.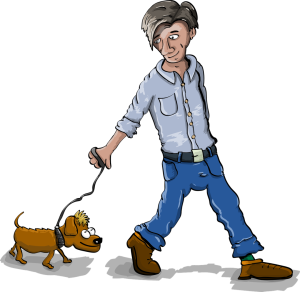 You can also use websites like PawShake, Rover or scampsandchamps.co.uk. to see what's available in your area.
Pros: It's quick, easy and free to get started. No new qualifications are needed, just a love for animals.
Cons: Many other people may be doing it in your area cheaply or for free, maybe try to specialise.
Childcare
Babysitting roles and nanny jobs have been around for ages. If you love children and want to help them get a great start in life, then this can be the ideal job for you.
Looking after children can be a full-time job or a part-time activity on the side, depending on your family commitments and how much time you have. You can choose your hours and how often you work and if you can do it all from home.
You can hear about jobs at the school gate, through networking or word of mouth or by advertising. Once started it is common to get referrals from parents.
It is straightforward to become a childminder. However, be aware that anyone who looks after other peoples' children under age 8 (age 12 in Wales) for a reward at home for more than 2 hours on any day MUST register with Ofsted as a childminder. For more details check ChildmindingUK.com and gov.uk at https://www.gov.uk/become-childminder-nanny. It is not only a legal requirement; parents will definitely ask for proof.
Childminders can have up to six children under the age of 8 at a time and charge £5-6/hour each. That can make it a well-paid job but consider the impact on your household and own family.
Pros: Child care can pay well, and you work through other organisations or directly for yourself.
Cons: Make sure it does not impact your own family life. It also involves more paperwork than you think!
Mystery Shopping
Being a mystery shopper can be good fun, save you money and be profitable!
Businesses employ mystery shoppers to provide them with unbiased feedback about their products or services. As a mystery shopper, you will visit a range of shops, cafes, restaurants, hotels, etc to rate their customer service. You provide feedback regarding the products on offer, the behaviour of the staff, questions they ask, upsells they offer, cleanliness of premises, etc.
You will then either be paid to do this or earn yourself some useful freebies or both!
There are several sites where you can register. Signing up may take a bit more effort, but it's not difficult. Some tasks pay per job from around £3-4 each, while others can be quite involved and can pay £100 or more. The average is around £20 per hour worked.
A great place to start is MarketForceShopper.com.
Pros: The jobs are often easy, quite short and pay well. There are often some nice freebies to be had!
Cons: How many opportunities you get can depend on where you live, and there may be lots of competition in those areas.
Ironing
If you enjoy ironing sheets and other items, you can offer people an easy way to get their laundry done. Many people hate doing the ironing or just do not have the time and would willingly pay you to do it for them.
How you go about your ironing business is up to you. You could visit your client's home and do it there, you can collect and deliver, or your clients drop off and collect at your home. The best method depends on your circumstance and your customers.
There are different ways to charge as well. You could charge per item, per bag or per kilo of clothes or use an hourly rate.
Get your customers through word of mouth, by advertising locally or by using sites like MaidForIroning and AllIronedOut.
Pros: It's easy to get started, e.g., through word of mouth. You can structure the hours around your day job or family commitments.
Cons: You may not enjoy working in other people's homes or the travel involved in pick-ups/drop-offs. And try not to burn anything!
Cleaning, Window cleaning
Do you keep a clean house? Or watch TV and 'advise' people on shows like 'How Clean is Your House'? Why not take that passion and make money from it? You can do it for a few hours at a time as an agency cleaner through to running your own business.
Many people don't like cleaning, or in the busy times, we live in they simply do not have the time. But everyone loves living in a clean house.
Businesses in every industry must keep their premises clean, but it's not their business to do the cleaning. The vast majority of them use cleaning companies to provide that service.
So, if you don't mind mucking in you can make a lot of money this way. Start as an agency cleaner to learn the ropes and see if it is for you. When you know what you like – domestic, business or specialist cleaning like carpets or windows, working solo or in a team – then you can progress either within the agencies or start your own business. Your own business can be just you, hiring a few friends, buying a franchise or growing a cleaning empire.
Scout around for local work or see if jobs at MollyMaid or Maid2Clean suit you. The hours can be flexible and earning start from around £10 to £15 per hour.
Note that specialist cleaning services, like windows, carpets or roofs may involve some high start-up costs, but the returns can be good. Also, ensure that you have comprehensive business and liability insurance.
Pros: It's easy to learn the ropes and leave the responsibilities to others by working through an agency before setting up your own business.
Cons: You may lose enthusiasm for cleaning your own house. Tip – get someone to do it for you while you build your business.
Delivery Amazon Flex, UberEats, Deliveroo
The past few years changed the way we live and work. We had to learn how to be at home much of the time, and when restrictions were lifted many decided to adopt that as a way of life. We enjoyed and learned to depend on having most of our shopping delivered to us. And demand for people to deliver all our groceries, dinners and purchases to us at all times of the day shot through the roof.
Being a delivery driver went from something other people did to a role almost everyone could step into, either full-time or flexibly.
There are many opportunities open to all. Depending on where you live you can do it on foot, on a bike or by car. In some cases, you do not even need your own transport either.
Anyone with their own vehicle can sign up for Amazon Flex. The start-up cost is as low as getting insurance to allow you to start delivering. As soon as you are accepted you can start selecting delivery blocks that suit your availability and start earning money. If it suits you then you can progress to the more full-time options available with Amazon, or with other delivery companies such as Evri or Yodel. There are many alternative opportunities.
Working for Deliveroo or UberEats is as flexible, and the hours they operate may suit you better if you are available in the evenings. It's a great time to become a food delivery driver or cyclist. The extra income is worth it.
With flexible hours making it perfect for a side hustle, they provide enough extra income to be worth it! Depending on the deal with the company you will get paid by the hour, typically £12+, per delivery or parcel. It can also vary depending on whose vehicle you use, so do some research before signing up.
Pros: As long as you have the means to get around you can do this, it's easy to get started. You can earn a good income from this if you put in the effort. And you get plenty of exercise.
Cons: Depending on who you deliver for the hours can be long or anti-social.
Driving for Uber
You can use your car, as long as it satisfies minimum standards, to join the ranks of Uber's drivers providing a freelance taxi service. You'll need to pass a few more checks before you can start driving the public around town, but this is a great side hustle if you love interacting with people. The hours are also very flexible, and jobs are available 24/7. You will get as much job satisfaction and extra income as the time and effort you put into it.
As an Uber driver, you check in and out of the system when you are available, and you select the jobs you want to do. All the admin hassle is done by Uber and you get paid weekly for all the jobs you did.
Uber drivers' equivalent hourly income can be approximately £15 per hour when you work, so overall income is directly proportionate to how much time you are available and how many jobs you pick up. Income is higher when you work at busy times, when 'surge' rates apply. Remember though that the costs of owning and running the car, and insurance, are on you.
Pros: This job is as flexible as you want it to be, you can simply drive when you have the time.
Cons: You are responsible for your car, running and fuel costs, insurance, and repairs. Beware of difficult, inconsiderate, drunk or rude passengers.
Summary
This is just a short list of real-world side hustles you can do from home. There are many more before we even start looking at the purely on-line side hustles that are available.
The opportunities are there, just get started!
Things to think about
Doing a side hustle is like running a small business, you have rights but also responsibilities to consider.  Here are a few points to keep in mind when getting going:
If you do this alongside your regular job then check that your employment of contract does allow you to do this, especially if your side hustle competes with your employer.
If you earn more than £1,000 extra a year from side hustles then you need to pay tax on your extra earnings.
You can do your side hustle as a sole trader, a partnership or a limited company. That will define the rate of tax you pay. Most people do it on a self-employed basis, there are more details here on the HMRC site https://www.gov.uk/register-for-self-assessment/self-employed.
If you work from home regularly and the side hustle incurs business expenses (phone, cleaning materials, etc) then you may be able to claim those back and reduce your tax. Check what you can claim on the HMRC site. https://www.tax.service.gov.uk/claim-tax-relief-expenses/.
Keep track of all your spending so you can report and claim it – and work out if the side hustle is profitable! Use a spreadsheet like Excel, or free on Google Sheets.
Whatever you do, make sure you have the right insurance for your business needs. Do not rely on your personal insurance. Go to moneyhelper.org.uk for more details.
Last of all – Good luck!